10 Years of Archer: Our Top 10 Favourite Episodes From The Show
On August 1, cult favourite show Archer reaches a huge milestone — the finale of their tenth season. After almost 109 episodes, we look back on our top ten favourite moments of this beloved vulgar animated show.
Created by Adam Reed almost ten years ago, the adult animated show follows the adventures of Sterling Archer — a vulgar and dysfunctional agent for the International Secret Intelligence Service.
Over the decade that it's been airing, Archer has often parodied popular spy films, uses meta-comedy, and incorporates pop culture references in its humour. The show has garnered cult-like following, and has also received several awards including three Emmys and four Critics Choice awards!
As the show reaches a milestone, we take a look back at 10 years of Archer with our top 10 favourite episodes from the show.
10. Skytanic (Season 1, Episode 7)
No one would dare make a spoof about the Hindenburg —the German airship that exploded after catching fire in 1937 — except maybe Adam Reed when he wrote Skytanic.
Malory really wanted to ride the blimp Excelsior. So much so, that she phoned in a fake bomb threat forcing the ISIS team to investigate. But it turns out -- there really was a bomb on board! Set up by the testy blimp captain who jumped out after the bomb was discovered. The ISIS team work together to diffuse not only the bomb, but the tension between Lana, Pam, Malory, Archer, and Figgis -- who accidentally bombed Wales.
9 "Un Chien Tangerine" (Season 4, Episode 10)
Lana Kane and Archer were sent to Morocco to extract an essential agent, Kazak. All hell breaks loose when Archer starts to realize that he might be in love with Lana. And to make things more hilarious, the duo finds out that Kazak is actually a giant English Mastiff! We should've known — "Un Chien Tangerine" translates to "The Tangerine Dog"!
8. El Secuestro (Season 2, Episode 10)
In the second season, it's revealed that Cheryl is not just rich -- but filthy rich! She belongs to a wealthy railroad family and is the heiress to $500 million. Obviously, nothing goes as planned in this TV show, so when ruffians decide to kidnap the wealthy heiress, they take Pam by mistake. And who gets to kidnap Cheryl? Cyril. But only to get back the $3,700 he lent her. Oh well. Cheryl is still the heiress to $499,996,300.
7. Swiss Miss (Season 2, Episode 1)
Season two kicks off in the town of Gstaad where Archer was tasked to protect Anka Schlotz, daughter of a German billionaire, from a kidnapping threat. Little does he know that the actual threat is the one he's protecting — an underage nymphomaniac who won't stop until she gets to bed!
6. Double Trouble (Season 2, Episode 13)
It's revealed that the KGB agent Katya rescued Archer for one reason — that she would be taken to America together with Archer. When he obliged, the two seemed to have hit it off really well; so well that Archer (kind of) quit his drinking! But chaos ensues when Katya was revealed to be a double agent sent to destroy ISIS from within. They both run and hide in Archer's apartment, and Malory declares Archer a double agent.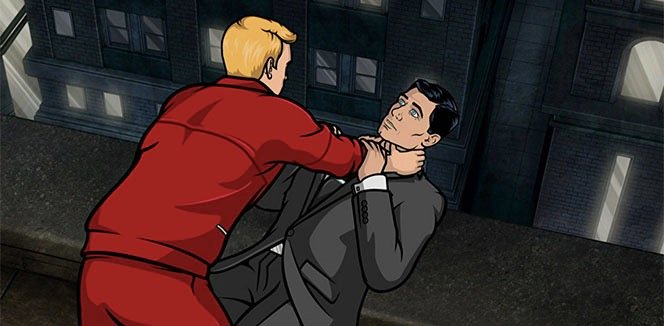 Amid all this chaos, the couple decided to get married — only for it to be interrupted by the now mechanized Barry. When the cyborg started choking Archer to death with his robot arms, Katya drags Barry down the balcony and crash on Krieger's van. Katya dies, and the cyborg Barry remained unscathed.
5. Live and Let Dine (Season 4, Episode 7)
As part of an espionage mission, Archer and his team disguised themselves as employees at a high-end restaurant. After a series of blunders, they get mixed up and ended up getting televised on the culinary show "Bastard Chef"
The celebrity "Bastard Chef" (voiced by the late Anthony Bourdain) brings hell to the gang by throwing food at Archer, bossing Lana around, or hitting Cyril.
4. Fugue and Riffs (Season 4, Episode 1)
In the world of TV series, crossovers are a good way to broaden your audience spectrum. But nobody expected the Archer to do a crossover with Bob's Burgers! Fun fact: Both Sterling Archer and Bob Belcher are being voiced by H. Jon Benjamin.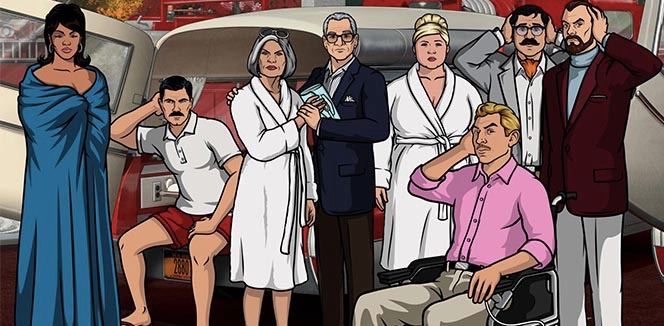 Archer was suffering from amnesia for the past two months and has been living his life as Bob Belcher with Linda Belcher and her kids. And yes, he was working in the Bob's Burgers. When the KGB show up Archer's training comes back to him, and he disposes of the KGB ala-Long Kiss Goodnight. ISIS caught wind of him and set on a mission to remind Archer of who he really is.
3. Vison Quest (Season 6, Episode 5)
A 7:00 AM meeting with Malory prompted Team ISIS to get to work early the next day. The whole team sans Malory all caught the same elevator car and ended up bickering, chatting, and then shouting. The combination of everyone's actions leads the elevator to malfunction as it crashes to the top floor and stalls. Team ISIS needs to work together to get themselves out of this predicament, and into their meeting – lest they wanted to know the wrath of their boss.
2. Stage Two (Season 2, Episode 8)
Sterling gets diagnosed with Stage II Breast Cancer. Before his surgery, he talks to the people that mattered to him the most — he bonds with Seamus, persuades his butler to go to Vegas, and shares a drink with his mom. He even tries to use his condition to get pity-sex from Lana, fearing that he might not make it after the surgery.
The surgery was successful, or so we thought. As Archer was celebrating with his colleagues and friends, he receives a phone call from his doctor -- the cancer has actually spread to his lymph nodes and the world's best spy must now undergo chemotherapy.
1. The Placebo Effect (Season 2, Episode 9)
We find out that Archer has been taking fake medicine for his breast cancer. He hunts down the Irish mafia, goes into a murderous rampage, takes the actual chemo, plugs himself into an IV, and loses all of his hair — all while being filmed by Lana!
Oh, and it is hinted that Dr. Krieger might be a Hitler clone! (Boys from Brazil, anyone?)

Jason Ho Marketing Communications & PR, FOX+, The Walt Disney Company