A Feat of the Human Spirit: What You Need to Know About the Mind-Blowing Documentary, 'Free Solo'
In this Academy Award-winning documentary, viewers follow the incredible journey of rock climber Alex Honnold as he climbs one of the largest vertical rock formations in the world — without any rope, any companions, or any safety gear.
Directed by Elizabeth Chai Vasarhelyi and Jimmy Chin, this documentary tells the story of not only one of the greatest athletic feats of all time, but perhaps one of the greatest human achievements in recent history.
Free Solo which will premiere for streaming on FOX+ on 6 April, follows rock climber Alex Honnold on his pursuit to free solo climb El Capitan, a 3000 feet vertical rock formation in Yosemite National Park. Free solo climbing is where the individual ascends the formation without rope or safety gear and only a bag of chalk to keep their hands dry.
For those unfamiliar with rock climbing, it may be difficult to truly fathom how difficulty and astounding this feat is — and this is where Free Solo comes in. Following the years of preparation before the penultimate climb, the documentary takes audiences into the heart and mind of Honnold as he puts his life on the line for this one achievement. And then comes the climb itself. Dizzying and unimaginable, the sheer visuals of the documentary following this one man alone as he climbs thousands of feet in the air is enough to make the strongest feel faint.
Free Solo has been met with critical reception, grossing $21.6 million worldwide and garnering an approval rating of 99% on review aggregator site Rotten Tomatoes. Critics have praised the documentary for its astonishing visuals, awe-inspiring storytelling, and incredible musical score. If that was not enough, the film's success is capped off with both a BAFTA and Oscar win for Best Documentary Feature in 2019.
Truly one of the most astounding accomplishments in recent years, here are some facts about Honnold's climb and the astounding documentary that follows it.
1. Honnold has dreamt of and prepared for this climb for a decade
It's been a personal dream of Honnold to free solo climb El Capitan for about ten years. In this time, he has spent countless of hours preparing for it mentally, emotionally, and physically.
One of the most astonishing things that went with the preparation is that Honnold spent the two years before the actual climb memorizing his route up El Capitan down to each single hold, each single move, and each single crevice involved.
According to director Jimmy Chin, it's this preparation that tells him and the world that Honnold is not just an adrenaline junkie with a death wish, but rather a person who has found purpose and is living with intent.
2. Honnold only succeeded at this climb at his second attempt
As shown in the film, Honnold's first attempt at free solo-ing El Capitan was on November 2016 where he only got a free hundred feet up before deciding to turn back around. It's never quite explained as to why he had come back down, but it only proves that this quest is one of the most fearsome and demanding an individual can pursue.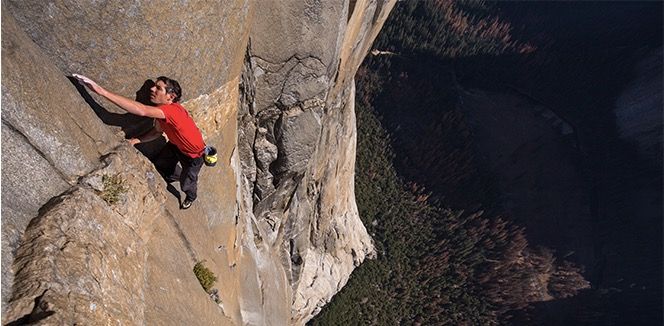 3. Filming Free Solo was a feat in itself as well
While Honnold was undoubtedly the celebrated hero of this story, a lot of credit is also due to the documentary's film crew whose task was also astonishingly difficult.
Because drones are not allowed at Yosemite Park, the team had to set up elaborate ways to not just simply film Honnold's climb, but to do so beautifully as well. There was no man better suited for this job than director Jimmy Chin, who is a professional climber himself as well as a cinematographer for over 20 years.
"From my experience, it's a lot easier to go from a world-class climber to great cinematographer, than a great cinematographer to world-class climber," Chin says in an interview to Indiewire. "It has to be second nature to be on the wall and get to the top of El Cap. You literally go over the lip to El Cap and there's 3,000 feet of air below you, and to even flinch is taking up bandwidth in the creative part of your mind. There's a head-game aspect of this and we needed to be focused on the technical filmmaking challenges. The safety side and climbing can't be a question."
4. Risk assessment and control played a big part in the preparation
It wasn't enough for Honnold to just be physically, mentally, and emotionally prepared for the climb. A real strategy and risk assessment was also key in the success of this pursuit.
For example, before the free solo climb itself, Honnold and team ascended El Capitan with ropes and backpacks to remove any rocks and debris that may come loose during Honnold's actual climb. The film crew went to incredible lengths as well to ensure that nothing about their operation would get in the way or even distract Honnold. And even after it rained days before the big climb, Honnold rappelled down his route to check if there were still any wet spots that may potentially cause him any danger.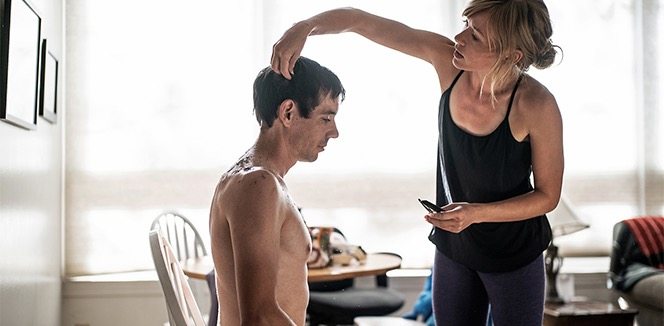 5. Honnold's mind has also adapted to the climbing
In 2016, before his first attempt at the free solo climb, Honnold underwent an MRI scan of his brain which showed that his amygdala — the part of our brain that processes fear — was not stimulated in the usual way that most people would be when faced with this climb.
While it's not to say that there is anything wrong about his inner workings, which has been a common jab from people, Honnold concludes that it's a type of desensitization after climbing for years and years making him less inclined to be as afraid as regular, non-climbing person would.
Be the first to stream Free Solo on FOX+!