Eight Amazing Culinary Interpreted Dishes from Celebrity Chef Extra
Celebrity Chef Extra shines a spotlight on some of the world's most unique interpretative dishes. Following renowned chefs in their kitchen, here are eight of some of the most incredible dishes from the series.
This FOX+ exclusive series serves as an exciting side dish to Celebrity Chef: East vs. West, a competitive cooking show that features chef Nicholas Tse and chef David Rocco as they compete against each other through cooking local dishes. Besides being a renowned chef, Tse is also a famous Hong Kong actor, singer, and martial artist, while Chef Rocco is an internationally distinguished Canadian-Italian chef, cookbook author, and celebrity. Celebrity Chef: East vs. West was filmed and featured in countries all over Asia such as China, Malaysia, Macau, and the Philippines.
Celebrity Chef Extra, however, adds something thrilling and enriching to the show's experience. Guided by the masterful hands of the two celebrated chefs, the FOX+ exclusive series offers a quick look into some of the world's most distinctive culinary interpretative cosines inspired by the show and exactly how to prepare them.
From Africa to Asia, Europe to America, Celebrity Chef Extra takes viewers on a culinary trip around the world. Here are eight of the featured dishes on Celebrity Chef Extra.
1. Wellington African Chicken
Boasting of ingredients and techniques from Africa, UK, and Asia, this dish is definitely one to be reckoned with. The filling consists of stir-fried vegetables, Chinese sausage, and chicken flavoured with spices and coconut milk. This is then delicately laced inside light and flaky puff pastry. The dish is completed with an incredible bright sauce created from Kaffir lime leaves, celery, turmeric, and coconut milk. If any dish screams exotic and one-of-a-kind, it is most definitely chef Nic's Wellington African Chicken.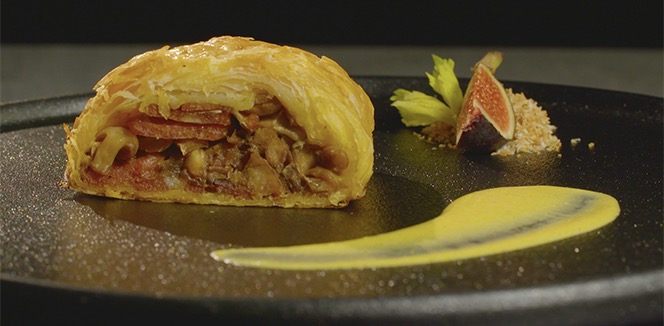 2. Pasta and Calamari Stuffed with Prawn and Carp
Chef David Rocco's ambitious seafood dish is truly the definition of east meets west. The calamari, or squid, is stuffed with a mixture made from Chinese sausage, prawn, carp, Italian cheeses, and Italian wine. According to chef Rocco, Italian wine is necessary because it is smoother than Chinese wine. Along with some coriander, the stuffed calamari is sautéed in red chili flakes and more Italian white wine. Plated with white wine garlic pasta, the dish has flavour in volumes while still being extremely well balanced and distinct in taste.
3. Sinigang with Mung Bean Noodle
A feast both for the eyes and the mouth, chef Nic's version of the classic Filipino sour soup will definitely catch your attention. This version of Sinigang involves Hoisin sauce from China and Kimchi from Korea along with the staple ginger, prawn, and fish. For another added twist, the Mung Bean noodle is cooked in the Sinigang before both the noodle and the soup is chilled. Then, plated with prawns, grapes, and topped with vegetable tempura, the Mung Bean noodle is submerged in the cold soup. Non-traditional and innovative, the dish carves its own space in the world of Asian fusion cuisine.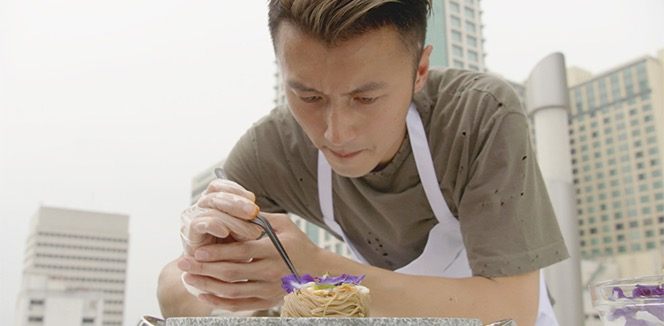 4. Mud Carp Swiss Roll
Making the Chinese mud carp the true hero of this dish, chef Nic yet again introduces Asian ingredients into European ways and techniques of cooking. Starting with the Chinese mud carp, which he chops into small pieces, he blends this together with prawn, sesame oil, and corn starch. This paste is then beaten and spread over yuba skin — or tofu skins — as well as Japanese nori. The four layers of yuba and nori are rolled to form a Swiss roll, which will be then be fried. Of course, no great roll can be complete without a sauce. Chef Nic whips one up by combining Shaoxing wine, Chinese scallion, both light and dark soy sauce, balsamic vinegar, oyster sauce, and dried tangerine peel. To add another Chinese touch, the fried Swiss roll is served over stir-fried fresh milk and served with crispy carp skin — truly an imaginative dish indeed.
5. Beef Rendang on Chapati and Potato Croquettes
This dish from chef David is a nod to Indonesian street food, but with a huge twist. Making two variations of Beef Rendang, chef David makes a traditional version to go on the chapati that he serves with pickled red onions, sautéed bean sprouts with balsamic vinegar, then topped with toasted coconut and mascarpone cream with coconut milk. For a more western touch, he creates a second rendang, which he smashes together with potatoes to create a rendang-croquette. Golden brown and fluffy, the croquettes are plated with the rendang and chapati — both coming together to complete this fun, playful ode to street food.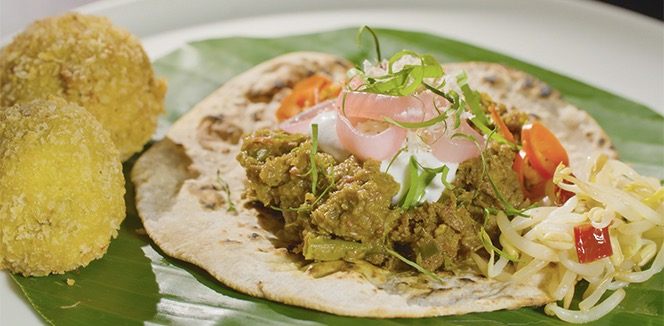 6. African Chicken with Crispy Risotto
Chef David starts off this exceptional dish with a gravy that highlights the flavour of bell peppers. Along with vegetable broth, Italian white wine, and plenty of bright and bold spices, the gravy is cooked with the chicken and is topped with coconut cream and peanuts. Chef David's way of adding a personal twist comes in the form of adding crispy risotto and Portuguese style potatoes. The risotto is traditionally prepared but then is finished off by frying, creating a crispy risotto cake. This acts as the vehicle for the African chicken and gravy, which is all topped with some fried potatoes and chorizo. Italian, African, and Portuguese — it's not every day that you can say you've had a dish featuring all three of those cuisines.
7. Seafood Sinigang
Chef David keeps it relatively close to tradition with his seafood sinigang. Starting with a fresh and light broth made from fish carcasses, mussels, calamari, and prawn, chef David relies on all the natural flavors from the seafood. He cooks his fish in this broth while also cooking more fresh prawn in white wine. Meanwhile, a little spice from red chilies and some acid from lime juice make the whole dish really pop — flavours that chef David drew from his childhood memories with the soup. But just to pivot a little bit, chef David builds the dish starting with some rice and coconut milk before ladling on the sinigang. The whole bowl is topped with kangkong or water spinach and crispy prosciutto.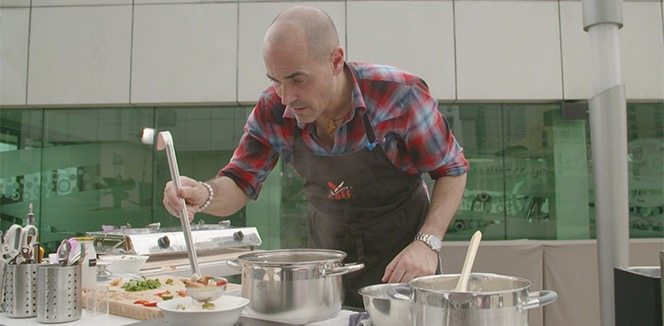 8. Rendang 3 and A Half
The name of this dish is not the only thing that makes it stand out. Chef Nic's version of rendang involves three different preparations all in one plate, but all of them with the same light and creamy profile. The first one is traditional rendang with the exception of some mascarpone cheese and apple juice wrapped in philo pastry and fried into a samosa. The second one is an open face wagyu sandwich with Chinese fried dough and rendang gravy, topped with rendang foam. The last version is Singaporean stir-fried rice noodle dusted with different spices and beef dipped in the rendang gravy. On the side, chef Nic serves a bean sprout salad with a miso vinaigrette. It's incredible how one chef can be inspired by one amazing stew to create one dish with a trio and a half of mind-blowing interpretations.
Be the first to watch the Celebrity Chef Extra on FOX+!