The Unbelievable True Story Behind 'Adrift'
Starring rising star Shailene Woodley, this 2018 romantic drama left audiences in awe at the strength of the human spirit. But what's even more awe-inspiring is the fact that this film was based on a true story.
Not many people can say they've ever survived being left out at sea after encountering a category 4 hurricane, but that's exactly what happened to Tami Oldham in Adrift.
Oldham (Shailene Woodley) was sailing on a yacht named Hazaña with her fiancé, Richard Sharp (Sam Claflin) when they encounter Hurricane Raymond out at sea. The monstrous hurricane wrecks the Hazaña, leaving the two injured and with no way to communicate to the outside world.
Viewers praised the film for its ability to weave together an incredible love story with an inspiring tale of grit and survival. Adding to the power of the spectacular tale is an equally spectacular performance by Woodley, who gave a gripping and powerful portrayal of Oldham. IndieWire's David Ehrlich applauded Woodley's performance, saying that "when all else fails, which it sometimes does, Woodley is there to right the ship. She's eminently believable as a whip-smart, hyper-capable, iron-willed human being who still finds a way to doubt herself."
However, what's even more impressive than Woodley's portrayal is the fact that the situation that she acted in was actually taken from a true scenario that the real Tami Oldham had to survive in real life. With the gargantuan obstacles that make this story one-in-a-million, it's no surprise that the tale of Oldham was adapted into the film Adrift.
Here, learn more about the true-life story of Tami Oldham and the events that inspired Adrift. (Warning: Heavy spoilers ahead with the real live events behind the film!)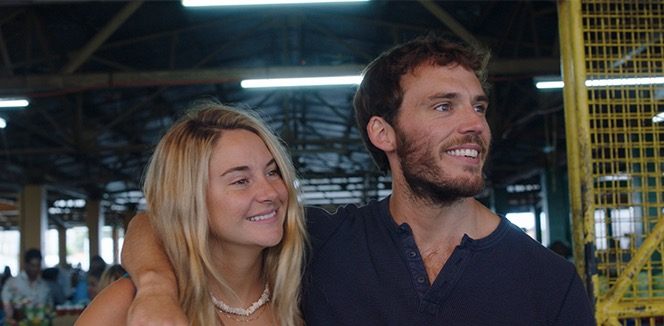 How did they end up on that fateful trip?
Sharp, the then 34-year-old British sailor engaged to 23-year-old Oldham, was hired to ferry the yacht on a 40,000-mile trip from Tahiti to San Diego. Oldham decided to accompany him on the crossing and they set sail on September 22, 1983.
A little over 2 weeks into the journey, the two heard about the monstrous Hurricane Raymond right on their path. While the young couple tried to veer away from the hurricane's way, the hurricane also unexpectedly changed directions. Hazaña was caught in the path of the category 4 natural disaster, causing the 13-metre yacht to be wrecked by 40-foot waves and 14-knot winds.
What happened during the hurricane?
Unable to outrun it, Sharp instructed Oldham to go below deck while he tried to keep the boat afloat. Once below deck, the battering of the vessel caused Oldham to be flung against a cabin wall. She hit her head and was unconscious for around 27 hours.
Oldham awakened to an absolutely wrecked Hazaña, with all gadgets and electronics destroyed and water damaged. The masts were broken, the yacht was half filled with water, and the navigation systems were unusable. This would not compare, however, to the loss she would feel when she discovered Sharp was missing and his safety line hanging over the side of the vessel.
This is a critical piece of the true story that was not entirely revealed in the film. Instead, it was used as a plot twist wherein viewers were led to believe that Sharp survived and was helping Oldham the whole time. It was only later on where it was revealed that the fiancé that was accompanying Oldham was simply a representation of his spirit that Oldham believed was helping guide her along the way.
How did Oldham survive?
Oldham, already an experienced sailor, tried with the best of her ability to get herself to safety. Despite a large head injury, she created a makeshift sail and fashioned a pump to rid the boat of water. Oldham manually rerouted herself to Hawaii instead of San Diego, which was closer to her and used her watch and sextant to navigate her way there. During her 41-day journey, Oldham survived on canned food and peanut butter. However, it was not enough for her to properly sustain her.
In her gruelling battle for survival, Oldham experienced severe hallucinations and even attempted suicide with a rifle. Miraculously, Oldham powered through the obstacles and after six weeks, was able to reach Hilo, Hawaii where she was rescued from the Hazaña.
Watch something new and stream Adrift on FOX+ from 28 June (Taiwan) and 30 June (Philippines / Singapore / Hong Kong)!

Jason Ho Marketing Communications & PR, FOX+, FOX Networks Group