This Filipino Chef is Triumphing on Late Nite Eats
On Late Nite Eats, Filipino chef Jordan Andino is on a journey to find the best dishes of after-hours dining. Here's what we know about him and his show.
Streaming on FOX+ now, the show aims to showcase some of the most spectacular dishes that foodies can enjoy well into the night. On every episode of the show, Filipino-Canadian chef Jordan Andino visits a new city where he tries dishes and drinks from three incredible restaurants. He meets the chefs in their kitchens, mingles with the fun and zany late-night diners, and samples some of the best and most popular dishes that the after-hours world of dining has to offer.
Throughout the course of the show's first season, chef Andino has visited over twenty cities including Montreal, Atlanta, Sacramento, and Boston. Across these cities, he's had his fill of good food and drinks, showing the viewers the ins and outs of each restaurant and talks about his experiences with the people at each joint. However, his adventure across different cities doesn't only let him meet different people, but allows him to try all sorts of cuisines. From coconut crab buns at New Jersey, San Antonio's rabbit barbacoa tacos, to Memphis' Polynesian meatballs, Late Nite Eats prove that there is more to after-hours dining than just fast food.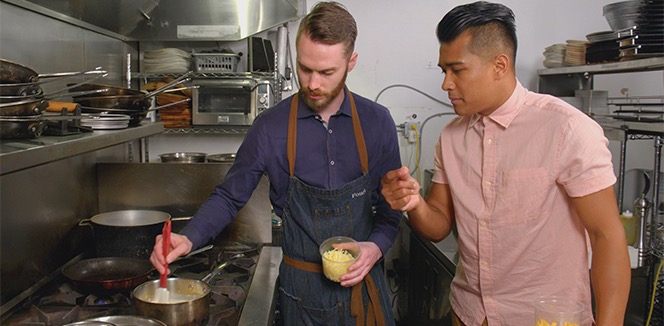 Central to the show's charm and success however, is chef Jordan Andino himself. Born in Toronto, the Filipino-Canadian chef started his culinary journey at the young age of nine. After moving to California, Andino started to work with his father in fine dining kitchens. This would inspire him to study Hotel Administration at Cornell, which would lead him to jobs working at acclaimed restaurants such as Jean Georges and the French Laundry. Andino has even cooked for the Kardashian family, who he says is "an amazingly tight-knit family that hustles harder than anybody I've ever seen," to an interview with sheknows.com. "Even with all their fame and fortune, they are so down-to-earth and quite gracious. They get a bad reputation for absolutely no reason!"
However, Andino's success can arguably be traced back to his love for Filipino food. He quickly became one of the most talked about chefs in New York City following the opening of his restaurant, Flip Sigi, a Filipino taqueria in the West Village. His vision for the restaurant was inspired by his grandmother's traditional Filipino recipes, which he added his own contemporary twist to. Now with a second location in the Upper East Side, Flip Sigi reflects the vibrant and colorful nature of the Filipino not only through the cuisine, but through the décor and ambience as well.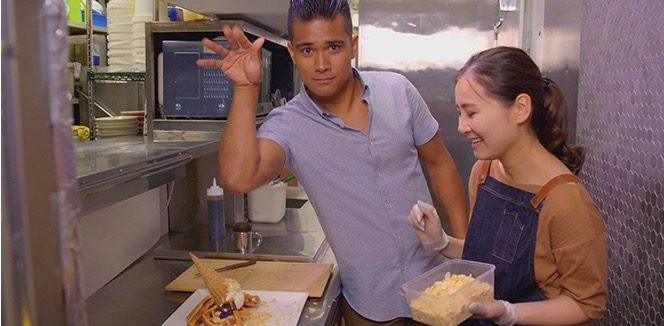 As his career grew, Andino proved that his skills lay beyond the kitchen as well. His bright and vibrant personality caught the attention of the media and celebrity chefs alike, resulting in appearances in shows such as Chopped, Rachel Ray, The Today Show, and Kourtney and Khloe Take The Hamptons. And of course, it ultimately led Andino becoming the host of his very own show: Late Nite Eats.
Be the first to watch Late Nite Eats on FOX+!